Dancehall King Vybz Kartel does not want to be involved in the Shenseea and Jada Kingdom Beef.
One particular fan on Vybz Kartel's Instagram page brought up Shenseea's engineered Loodi collab with Kartel and his missing feature, comparing it with Jada Kingdom's feature on Kartel's new album To Tanesha and her track with the Worl Boss Cast Iron Heart. The comment read: @shenseea how you feel that @jadakongdom get a feature but you steal yours and modify it 
" alt="" aria-hidden="true" />

?
What took this incident to the next level is that not only did the Teacha him self actually respond but did so with some cheeky emojis: – An emoji covering the mouth, shushing and the other worried and shedding a drop of sweat, "
" alt="" aria-hidden="true" />
" alt="" aria-hidden="true" />
" alt="" aria-hidden="true" />
".
This response left everyone thinking Kartel is in agreement with the person's comment but wants to keep it under wraps while suggesting he may be a little nervous about the topic. It's clear he doesn't want to step on anyone's toes and would rather stay out of the drama. One fan caught that, saying, "Man no suppose to get involve inna "cat fight" unless a fi stop di fight.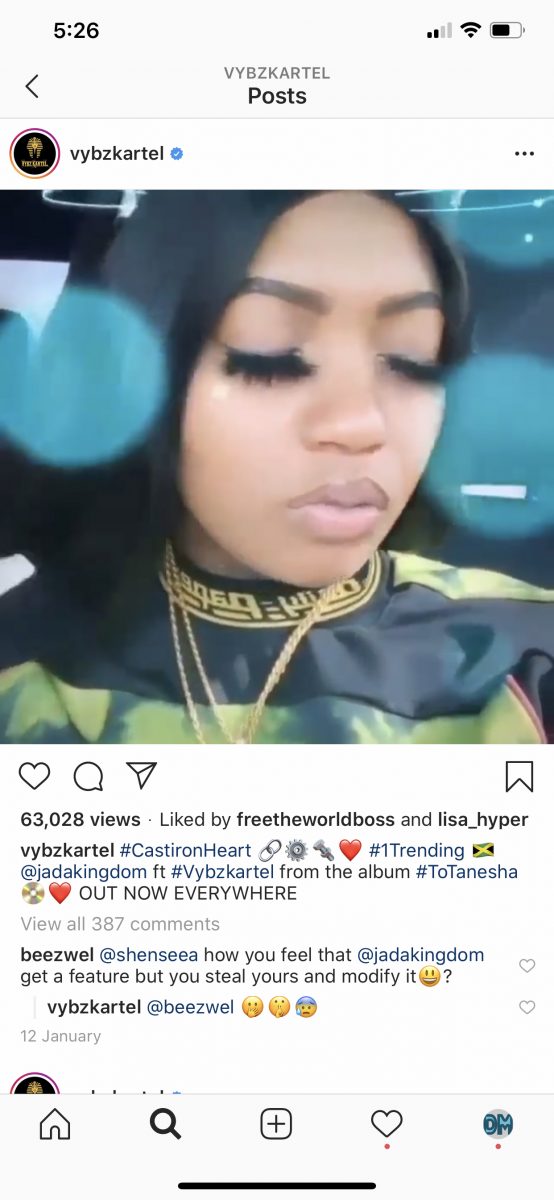 %MCEPASTEBIN%
Last year, Jada directed a scathing diss track, called 'Shen Heng' at Shenseea, two days after the Blessed singer aimed at her during the Red Bull Culture Clash.
It is without a doubt that Vybz Kartel played a pivotal role in skyrocketing Shenseea's career with his collaboration on her break through song Loodi in 2016. Even though Kartel wasn't physically in her video, fans were happy nonetheless to hear their deejay still making music despite of his incarceration. Two years prior in 2014, Kartel was sentenced to life imprisonment for the murder of his associate Clive "Lizard" Williams. So instead of thinking too much about his absence, fans somewhat gave Shenseea a pass on her rigged music video.
Well flash forward to 2020 and Shenseea is now one of the most prominent female figures in dancehall music. With great fame comes great controversy at times and since Shenseea's recent feud with Jada Kingdom, fans… more so critics are bringing up Shenseea's not so great past moments and taking cheap jabs at the Blessed artiste.
https://www.dancehallmag.com/assets/2020/01/vybz-kartel-comment-scaled.jpg%MCEPASTEBIN%