The question in peoples mind today is; why Jamaica an island nation in Caribbean Sea of about a population of 3 million people produce athletes that so handily trounce those from other rich and populated nations on earth?
There are many factors that have led to this according to research and one of them is that the system is good and the island has a very unique sporting culture. In Jamaica sprinters are the national heroes or rather superstars other than footballers.
The other reason that researchers came up with is genetics. Its said that genes of Jamaicans enable a faster flow of oxygen to the muscles and their first twitch fiber muscles enable them in their elite sprinting.
These below athletes are crickets others track and field individuals, other footballers and basketball players. Check out these genetic superior and also richest Jamaican athletes.
10. Veronica Campbell Brown – Track and Field – US$2 MILLION
Her name in the circles of athletics is synonymous with history. She was born in 1982 in the rural Jamaica in the parish of Trelawany. Today she is a track and a field sprinter and someone who has made a name for his country and herself as well.
Some of the veronica Campbell achievements are; 2nd woman in history to win Olympic 200 m back to back after Barbell Wockel of Germany.
She is the first female track athlete in history to be named UNESCO champion for sport and one among the nine to lift medals for winning world championships at the youth, junior, and senior athletic events.
As if that not all in 2004 she wrote her name in history as the most successful Caribbean athlete ever at a single Olympic game buy winning 100m bronze, 200 meter gold and relay gold. She is an eight time Olympic medalist, and an eleven time world championships medalist.
9. Yohan Blake – Track and Field – US$2.5 MILLION
Nicknamed as the ''the beast" this man meteoric rise has seen his name rise not just in Jamaica but at a global level.
Some of his achievements can be highlighted as he is an Olympic Games silver medalist, an Olympic gold medalist, world record holder at 4*100m and a world champion.
8. Shelly Ann Fraser Pryce (Track and Field) $4
Sprinter Shelly-Ann Fraser-Pryce was born in 1989 in Kingston Jamaica and today she is she is one of the world's best sprinter and in addition she is an Olympic gold medalist in the 100 meter.
She is also the only female not just in Jamaica but at the global level to have ever been crowned world champion over 100m three times in 2015, 2013 and 2009. And that's not all since she holds many more world records.
7. Patrick Chung (NFL) – US$4 MILLION

Chung was born in Jamaica in 1987 by Sophia George-Chung was a famous Jamaican reggae  artist in 1980s. Chung started his NFL career back in college at the university of Oregon where he won many all American accolades and all pacific 10 conference honorable mention honors.
He later moved to Philadelphia Eagles in 2013 but dint make it to stay as he suffered a poor play and injuries and he went back New England Patriots as a strong safety a contract he has with the patriots until 2018 season.
6. Nesta Carter – Track and Field – US$5 MILLION
Born in 1985 in the tiny island of Jamaica Nesta Carter is among the new generation of Jamaican sprinters who can be categorized as world class sprinters. He has specialized in 100m, 200m events and made a name in 4*100 relay team.
Although he is the reason the 4*100 meters relay team winners of 2008 were stripped off their gold medals for testing for the banned stimulant methylhexaneamine he is a true Jamaican ambassador and a jewel of Jamaica.
5. Asafa Powell – Track and Field – US$6.5 MILLION
Truly he is the legend who started it all in terms of he is the force behind Jamaica dominance in the international sprinting.
Today he holds the record of being the fifth fastest man in history .He has won many accolades among them golds in Olympic, common wealth games, world championships IAFF among others.
4. Chris Gayle – Cricket -US$15 MILLION
He is a cricket player for the West Indies. Born in 1979 Kingston Jamaica he is popularly known as big hitter since time and again hit sixes. Chris is one of the greatest batsmen in limited overs cricket who has set numerous records for his prowess.
He is usually a player for the Jamaican cricket team, and also represented other teams such as western warriors, Kolkata Knight Riders, Sydney thunder among many others.
3. Usain Bolt – Track and Field – US$30 MILLION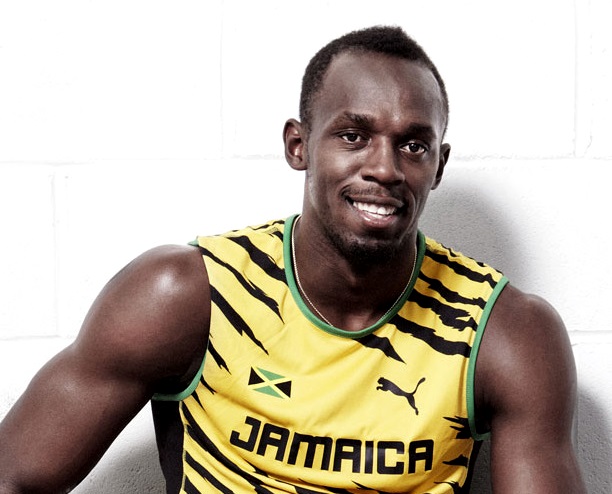 We all know the world fastest man and also widely recognized as the greatest sprinter of all time. He is an 8 time Olympic gold medalists,  eleven time world champion, among many others.
Some of the awards Bolt has received such as Laureus World Sportsman of the Year, IAAF World Athlete of the Year and Track & Field Athlete of the Year, speak nothing short of his legend success.
2. Raheem Sterling – Premier League Football – US$53 MILLION
The Manchester city winger who was voted the player of the week on February 2017 was born in Jamaica 1994 and then moved to England when he was just 5 years old.
In 2015 he was the most valuable young player with an estimated value of €49 million. Today he plays for the England national team and Manchester city club.
1. Patrick Ewing – NBA – US$85 MILLION
Born in 1962 this retired hall of fame (us, Springfield, Massachusetts) basketball player is one of the greatest legends in basketball no wonder many refer to him as the "Warrior". He went to the books of history as one of the finest shooting centers to play and retired as one of the best and a leader to New York Knicks' in almost every category.
He was also a player at Seattle Supersonics and Orlando Magic although most of his career is with New York Knicks. Among the accolades he has are 16th greatest college player of all time and 50th great player in the NBA history.
Today he is the associate coach of Charlotte Hornets.
The above list is a true reflection of what success can do for you and what a hobby can make you be.
If you have the gift of sports in you exploit it and nature it since you never know what it can turn you to be some day.