It seems as if Spice got the surprise of her life when her kids Nicholas and Nicholatoy unveiled their Mother's Day gift to her. Yesterday during all the loving exchanges for the occasion, Spice shared a touching video of what she woke up to seeing on her special day.
The kids pulled out all the stops for their Mom, a beautiful serenade of Boys II Men's single A Song For Mama, which they started singing as she entered the room. Her son handed her a lush bouquet of red roses as she approached a centerpiece overflowing with sweet treats and gifts … plus breakfast! The usual effervescent livewire deejay was so stumped that within an instant was brought to tears.
If that wasn't enough of a tearjerker, upon seeing his mom crying, Nick in a touching gesture hugged and began wiping away her tears. He and little sis then fired up their musical chops in the end to deliver a Stella singing performance.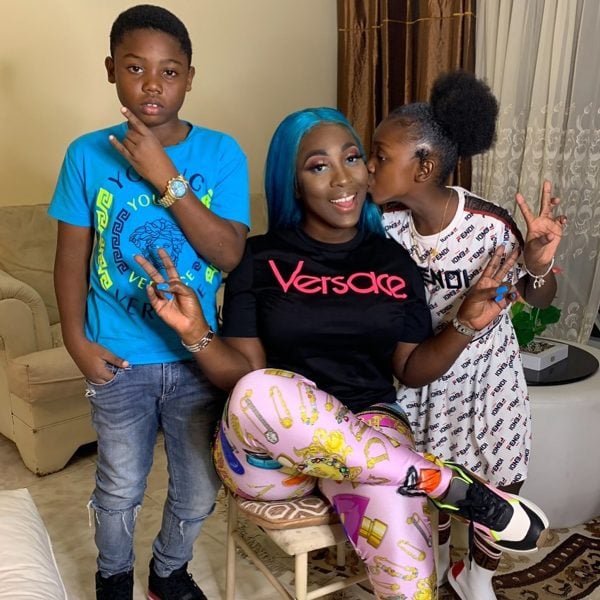 There wasn't a dry eye in her comment feed, crying face emojis flooded in from fans and Spice's celebrity friends. American rapper, Missy 'misdemeanor' Elliott said, "Awwww this is so beautiful! And baby he say let me finish this song with these gospel runs! you deserve it Happy Mother's Day sis."
Among the other celebs that commented were Soca queen Destra Garcia, Ghanian actress Jackie Appiah, model Winnie Harlow plus her Jamaican family Ding Dong, Foota Hype and Quite Perry to name a few.
Spice has been away from her home in Jamaica since early March. When schools on the island officially closed due to the onset of the coronavirus outbreak, she scooped up her kids and headed to the ATL where she was currently filming for the TV series Love and Hip Hop Atlanta.
She was unable to return before the borders closed and has since been making the best out of the COVID-19 lock-down with her kids in her mini apartment in the city. Even though it is expected of her to run errands and move around, it's quite a mystery how Nicholas and Nicholatoy were able to pull off such a grand celebration for this mom of the century.