Dancehall artistes Popcaan and Quada unruly member  passed away following a motorcycle accident involving several vehicles on June 5 in which he was traveling in a group, and a truck as well.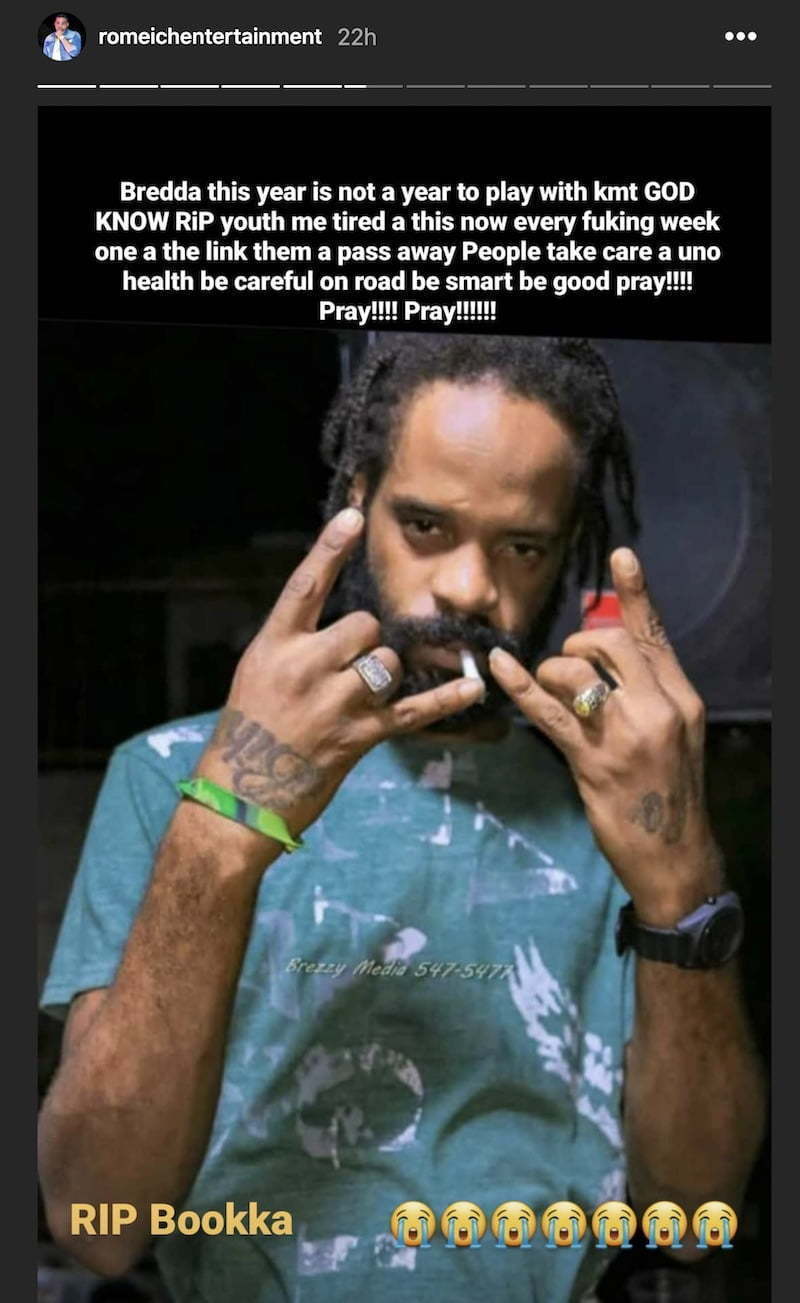 On Sunday, July 5, 2020, reports state that Bookha was traveling with a group of friends in Retreat, St Thomas. Bookha was riding on his bike while his companions drove ahead of him in a blue Honda, which reportedly included Quada. According to reports, at about 4:30 pm, the blue Honda made a sudden stop forcing Bookha to avoid colliding into it. He allegedly hit into the back of the car upon which time he was thrown from the motorcycle hitting his head. He was then run over by an oncoming truck. The incident took place at a rough and narrow section of the road allegedly after three vehicles hit into one another.
Numerous videos of the tragic incident were posted on the social media site, Instagram. In one such video, Bookha can be seen lying in the middle of the road as friends desperately try to revive him. One man is seen shaking him and pushing on his chest before rolling him onto his side while supporting his head. The men made loud exclamations as the reality of the incident sinks in as they are unable to revive him. One man is seen violently kicking away Bookha's bike helmet on the ground, while others walk around in shock.
Quada, who is dressed in a black t-shirt and knee-length blue jeans, is devastated. He can be seen holding his head while shaking it in disbelief. He stands over Bookha, seemingly angrily questioning the situation before he walks off into the bushes with a handkerchief over his face. Bookha's green motorcycle is seen on the side of the road behind the blue Honda. It is smashed to pieces with debris strewn along the road.
In response to the accident, many persons have taken to social media with an outpouring of pain and anger at the sudden loss. Commenting, "Man a shake up bk him brethren feel that part" / "Meh hate bike ?? bike is an unfinished vehicle. Meh just nuh see myself pon sumn weh cah tek couple lick offa me if nothing" / "God, please protect our dancehall artists, they going through it" / "can this year just be over?" / "Quada feel it enuh," persons are shocked by the tragic incident.