British-based dancehall artiste Lisa Mercedez has reaffirmed that she is dating Vybz Kartel. The singer has plans to marry the incarcerated artiste and have his children even though she has never met him, which has put fans in a tizzy.
On popular Jamaican entertainment television show, Onstage that was aired last Saturday night, Mercedez declared to host Winford Williams that she was in love with Kartel, 44, who won't be eligible for parole until 2046. The singer said she is not one to keep feelings to herself, and so had to let her fans know, as she doesn't 'really like to hide things.'
When asked when did she and Kartel meet, Lisa said that it was a 'sticky question to answer' as the relationship was a spiritual one, and was so special that most people could not understand it.
"Obviously we don't meet cause di man is incarcerated," she said, chuckling. "We communicate through telegram."
"I'm in love. Winford, this is so deep, yeah, but people naw go really understand it. Mi have such a spiritual connection with this guy spiritual communication, spiritual connection, and some people understand it, but some people naw guh get it, but it's very, very deep. It's a spiritual connection a gwan right now," she said.
The 34-year-old, who has a child for dancehall artiste Stylo G, said she has been bombarded with messages from dancehall fans who have called her delusional since first making the revelation about Kartel a few weeks ago.
"They think I am crazy. Dem a call mi di crazy British girl and people in their mind saying this girl is mad," she said.
The Run Dancehall collaborators made their apparent relationship 'Instagram Official' on June 19, when Mercedez celebrated her birthday. Kartel's verified account sent birthday greetings, three times, in one instance saying "Happy Birthday LeeLee @lisamercedez," to which she replied, "Thank you zaddy…… love you."
When Williams asked where she wanted to take her long-distance relationship with Kartel, Mercedez responded, "Marriage, kids, all the way."
The host then asked whether she was not aware of the existence of Kartel's common-law wife, Tanesha 'Shorty' Johnson. Mercedez was very cavalier about the Gaza First Lady's role in the artiste's life, an attitude which was to later be a point of attack for fans of the Short Boss, who is mother to three of Kartel's children.
"I have never met this lady before; I never spoke this lady, so I am not in a three-way relationship. I am in a relationship with Adijah Palmer, aka Vybz Kartel. So I am not in a relationship with his whoever you call her. It is a two-way thing between me and him. I don't know about what's going on with them; I know about what's going on with me and him," she declared.
Dancehall fans who commented on the interview, which was carried on Onstage's YouTube channel, were dismissive of Mercedez. Some claimed the artiste, who is featured on two of Kartel's tracks from his recently-released Of Dons & Divas album, was making ridiculous claims as a means of self-promotion.
"She never met him but ah her man. This is Onstage not Catfish this woman deluded no r__s" one viewer said, while another noted, "She wants to be famous like Spice, so she will say anything to hit the headlines."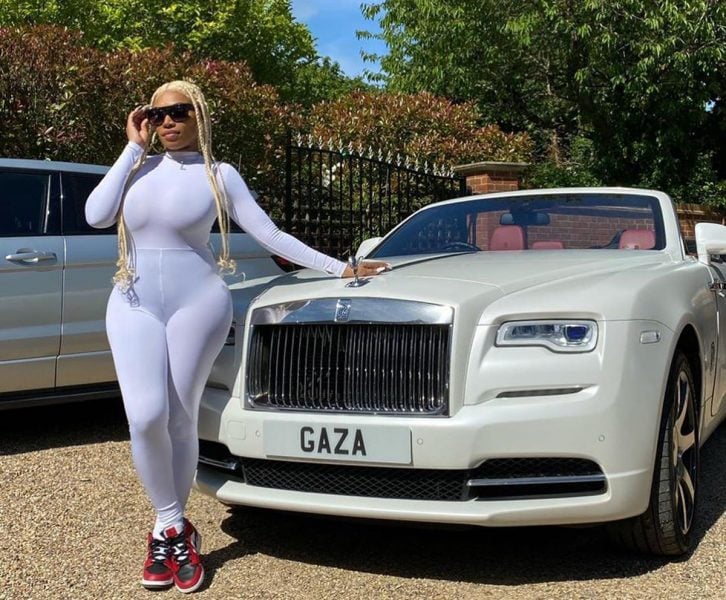 Over on her own IG page, where Mercedez had posted clips of her Onstage interview, she was hailed by some of her fans, as 'going places', but on the other hand, many of the comments were caustic.
"You really mad," one follower said. "There's a reason why a lot of entertainers don't speak on their personal lives, and in this case, you should have done the same because you come across as nuts, and no one will not take anything you present serious," he said.
"Don't even want to listen to the track you have with Kartel on the album because all I could think about is how insane you sound to be convinced that you are in a relationship with someone who lives in prison and has his established wife and children. You have no shame and should keep your delusion to yourself," he added.
"U talk about u don't know what is going on with "your man" and "his wife" u do know, u either clout chasing or just being dam ignorant & disrespectful, lost respect for everything I thought u stood for! The word fake now hangs above your head!" she said.
One follower described Mercedez as a "one and move gyal" and a one-hit-wonder, while others dismissed the State Evidence artiste for not making sense.
Watch the episode below.
Another follower said she was appalled and disappointed by Mercedez's statements.
Source: dancehallmag