It looks like Dancehall artiste Jahvillani may be a new dad.
The dancehall artiste was recently tagged in a post which seems to suggest that he is a father. "Hi daddy! @jahvillani," read an IG post by Leah Tavares-Finson showing a cute bundle of joy.
Leah is the daughter of noted Jamaican lawyer, Queen's Counsel Tom Tavares-Finson, and former Miss World, Cindy Breakspeare.  Her half-brother is Damian Marley.
The photo was liked by dancehall selector Foota Hype, who wrote, "Blessings".
The caption under the photo was later changed.
" alt="" aria-hidden="true" />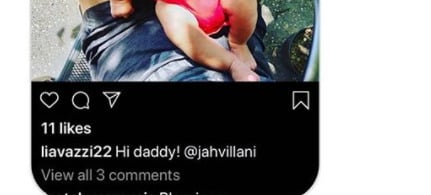 The mother in question is no stranger to controversy after she was labeled as a "wild child" after the then 23-year-old was questioned by police when she was seen in the company of alleged criminal Christopher Linton also called Dog Paw during a police operation in Kintyre, St Andrew.
In February 2011 she gave birth to a baby fathered by 'Dog Paw' who was later that year sentenced to 15 years' imprisonment.
Jahvillani, who is best known for Clarks Pon Foot, has not commented on the matter.
source: dancehallmag