Data from a budget iPhone enclosure manufacturer reportedly shows both the name and dimensions of the upcoming iPhones, set to release at Apple's September event.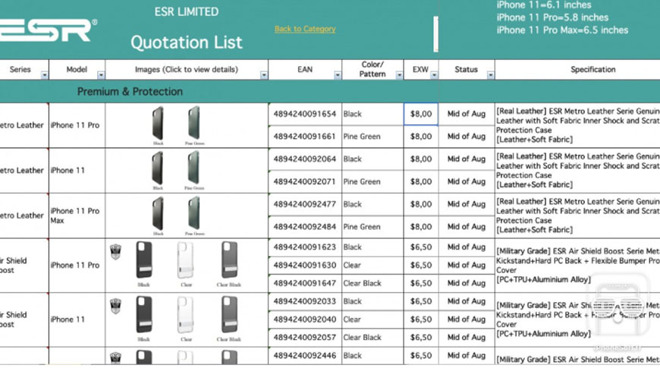 The spreadsheets show multiple products that are to fit the yet to be released iPhones, which the company is calling the "iPhone 11," "iPhone 11 Pro," and "iPhone 11 Pro Max." Accessories shown include cases, camera lens protectors, and screen protectors.
Other leaks have recently referred to the upcoming iPhone line with similar language.
At the top of one of the spreadsheets, discovered by the French website iPhoneSoft, is a short dimension list, listing the size of each iPhone. The "iPhone 11" is said to be 6.1 inches, the "iPhone 11 Pro" comes in at 5.8 inches, and the "iPhone 11 Pro Max" at 6.5 inches.
The current line of iPhones boast the same dimensions, with the iPhone XR at 6.1 inches, the iPhone XS at 5.8 inches, and the iPhone XS Max at 6.5 inches.
The cases show backs that fall in line with other leaks, specifically the large cutout for the anticipated triple lens camera.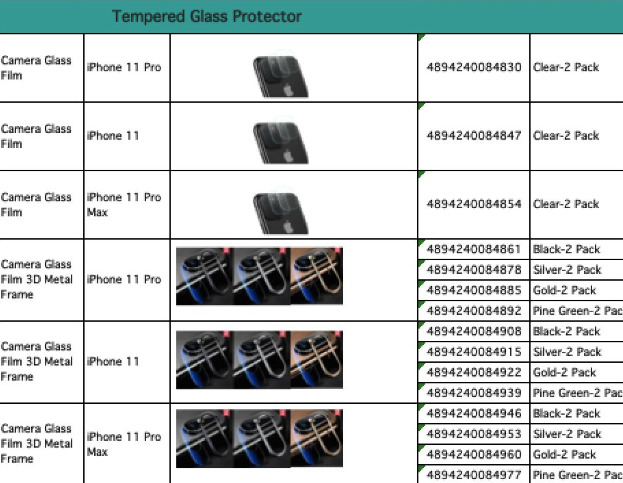 In nearly every similar situation, iPhone accessory manufacturers do not know what Apple is going to call a product prior to launch, nor are they given specifics about product features or dimensions. The document may simply be what ESR has chosen to call the anticipated lineup internally, or they may be using language reflected in recent leaks.